When Diwali is just around the corner, the festive spirit resonates and ushers in the joy of celebration, life & togetherness. The dark moonless sky dazzles with fireworks & becomes a myriad display of glittering hues.
Diwali is a time for rejoicing and renewal of positivity and a safe diwali enhances the purpose. This is one of the most awaited festivals in India and now it is celebrated in many other countries like Nepal, Bangladesh, Srilanka, Myanmar, Malaysia, Singapore, Fiji.
It celebrates the triumph of light over darkness, good over evil, purity over impurity. People enjoy delicious dishes and sweets, air lanterns and firecrackers while lighting diyas and candles with their loved ones.
This year, COVID-19 seems to envelop us with literal and metaphorical darkness. Let us peep through the blanket of the darkness with our own consciousness. Yes, there is light and we have to lit it with our sense of upliftment and make it a very "HAPPY DIWALI".
However, it's important to be safe from the health and safety hazards caused by burning of firecrackers(Some states have banned firecrackers to control air pollution which is hazardous for mainly Covid-19 patients). Major concerns are injury due to burning, irritation, fire/explosion, hearing loss due to noise, respiratory disorders, generation of toxic gases in the confined area.
Some quick interesting snippets about the origin of Diwali:
The festival marks the return of Lord Rama and Sita after completing fourteen years in exile. To honour and rejoice the homecoming of their king, the people of his kingdom lit his path with oil lamps to guide him on his way. Thus, began the tradition of decorating homes and public spaces with earthenware oil lamps (diyas) to mark the triumph of good over evil, light over darkness and the five day celebration came to be known as 'Diwali' or 'Deepavali' which means 'rows of lights/lamps'.
In Bengal, the fearsome Goddess Kali is honoured & worshipped on the occasion of Diwali.
It was the day of Diwali when the establishment stone of the Golden Temple was laid and Diwali is hugely celebrated by the Sikhs in the Golden Temple since the year 1577.
Diwali, being a celebration of lights, colours likewise play a noteworthy part on this day. Making rangoli is additionally an essential piece of Diwali festivity to invite Goddess Lakshmi to our homes.
However, in our zest to celebrate Diwali in a grand scale, let us not forget our responsibility towards nature – the home for all living beings & life itself.
And our Diwali could be 'Green' too!
Let's embrace ourselves for a greener, safer & eco-friendly Diwali this time onwards:
Avoid using electric lights to illuminate your home or any space. Instead, opt for diyas (earthen lamps) and candles. This saves electricity. It also supports artisans.
Limit usage of firecrackers that emit enormous smoke and sound
Dispose off waste & burnt firecrackers properly after celebrations
Select eco-friendly gifts and decorating items 
Crackers & fireworks are fun but they are dangerous & harmful too!
The poisonous fumes discharged from firecrackers can act as a source of irritation and prolonged exposure may aggravate certain psychiatric conditions as well. Some of the major hazards caused from burning of firecrackers are injury due to burning, fire/explosion, hearing loss due to noise, respiratory disorders, generation of toxic gases in the confined area.
Diwali is the time for joy & celebration, not regret!
Here are some basic safety checkpoints to ensure a glittering & safe Diwali for you & your family:
4 CHECKPOINTS TO ENSURE DIWALI SAFETY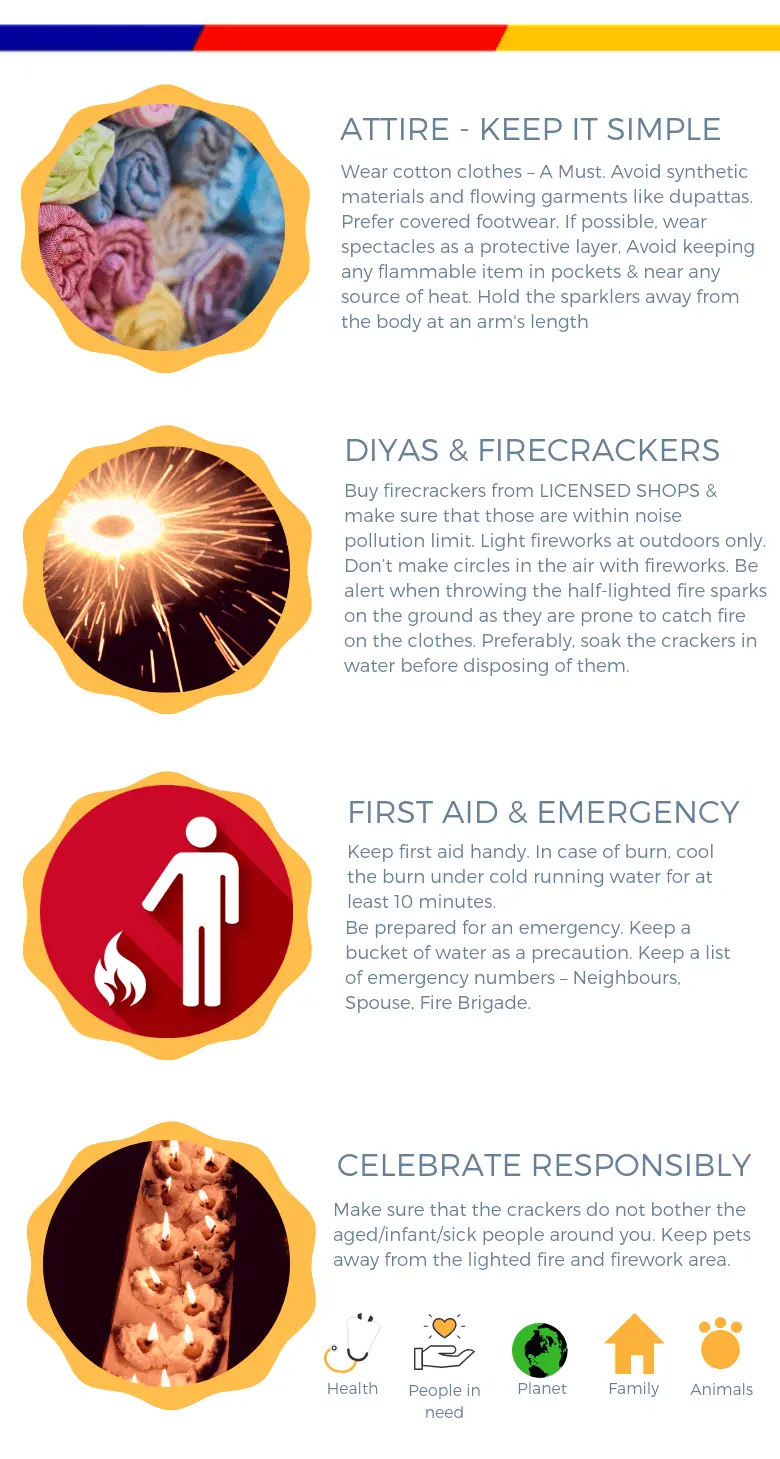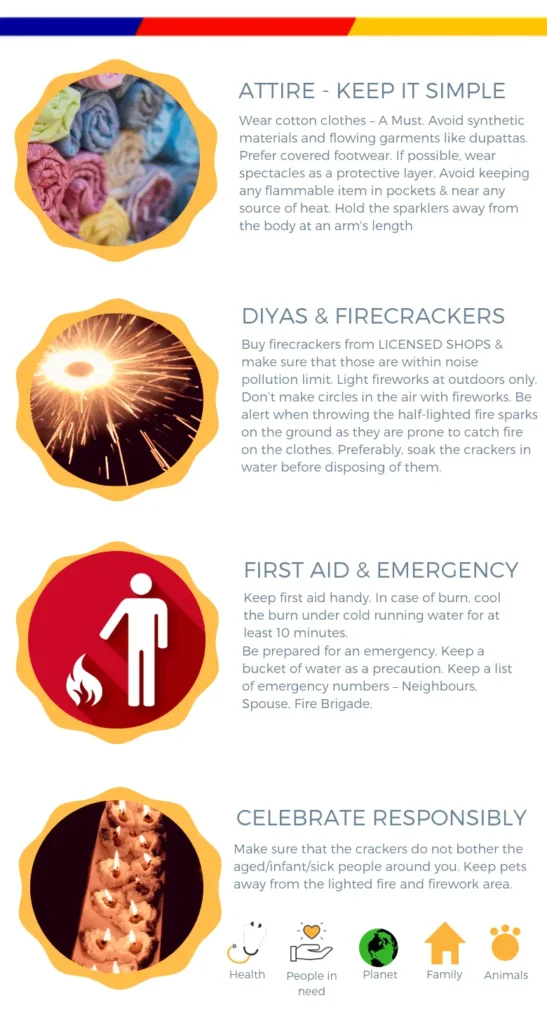 Some quick tips for an emergency:
Always keep the first aid box and buckets full of waterand buckets full of water ready
In case of shock, switch off the main switch & seek doctor's help immediately
In case of burn, place the burnt area under cool running water or a damp cloth can be placed over the injury if not very painful
Don't use ice to cool the burns, it causes further damage to tissues
Remove the clothing from the burn site, remove ornaments like bangles, finger rings, anklets, chains as the area will start to swell after some time making it difficult to remove them
Take care not to burst the blisters
If it is a superficial burn, you can apply a soothing ointment over the wound
If there is an eye injury, immediately wash the eyes with water and call emergency
If the person inhales smoke and is breathless, move him/her into the fresh air and rush him/her to an emergency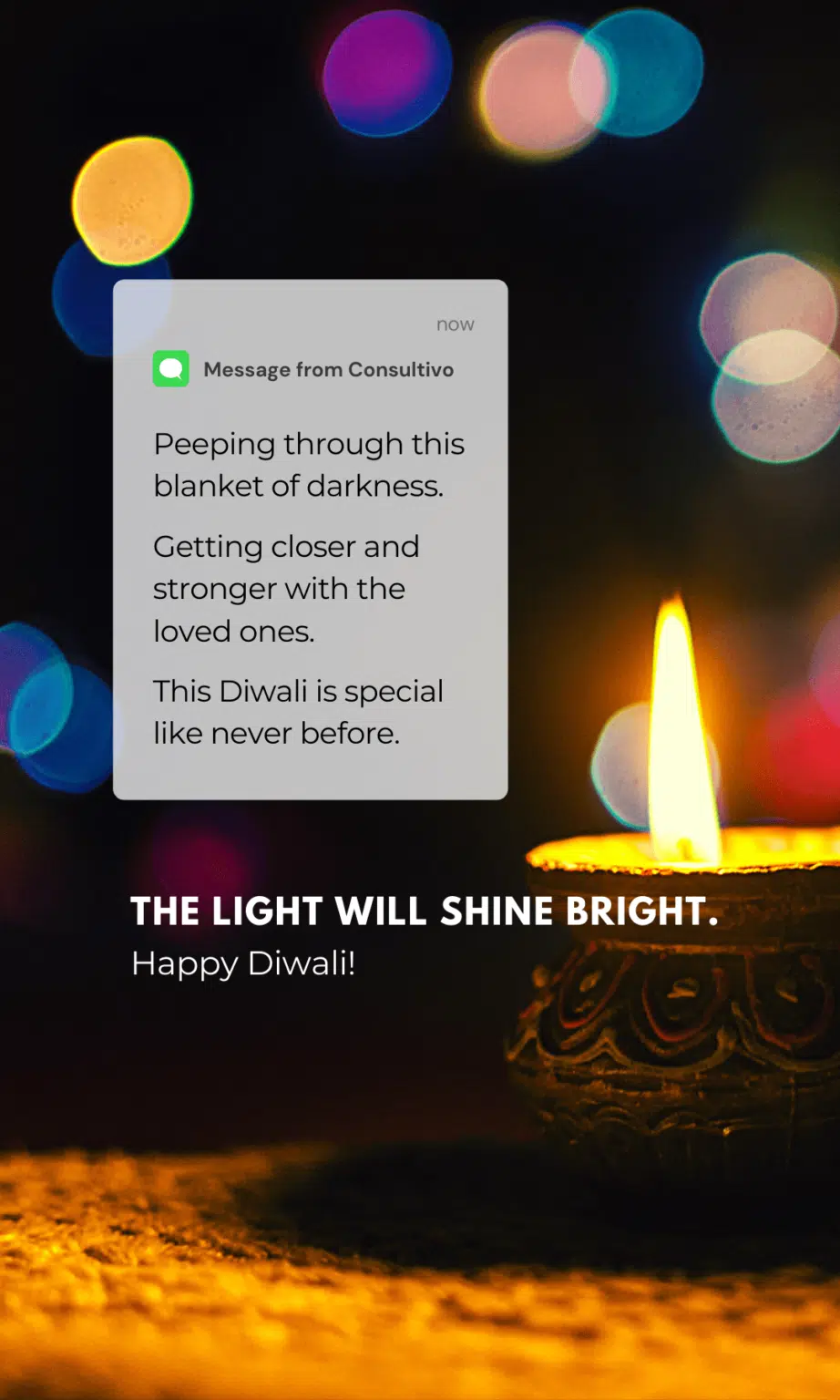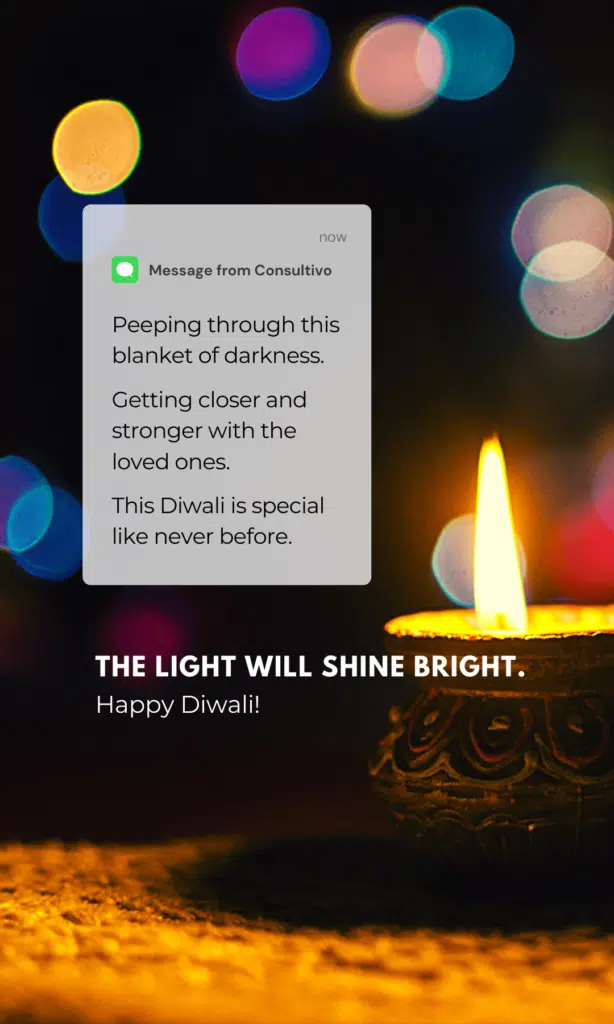 Let's celebrate it responsibly with love and devotion in a unique style this time and every other time.
Because the essence of festivities lies in being together & safe.
Let us lit our own light of knowledge and create a chain of lights (Deepavali) and make it a precious DIWALI.
Stay happy, stay healthy.