Consultivo Knowledge Bank
Consultivo Knowledge Bank includes knowledge initiatives, engagements, and thought leadership activities.
ESG Guide Book for Safety Experts [Free Download]
🌟 Ready to dive into the world of ESG complexities? Our brand-new guidebook is your ultimate companion. 🚀 We've packed it with must-have insights tailored specifically for Safety Experts and Professionals like you. 🛡️
🌟 Get ready to uncover the latest SHE trends in SHE Awards.
Dive deep into preparedness – analysing what it takes to stay ahead in the game. 🚀
Get valuable insights and practical guidance on CSR Activities of Indian Companies – Lessons from Benchmarking study by ICC – Consultivo
Get set to discover the newest OHS trends in SHE Award.
We're digging deep into being prepared – figuring out how to stay ahead in the game.
This compendium by ICC – Consultivo Addresses Different Social Issues and The Impact of CSR Projects in India.
CSR Compendium
Inspiring Snapshots of Impactful CSR Projects in India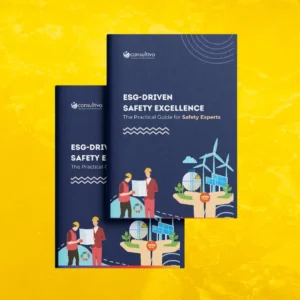 Knowledge Bank
ESG Guide Book for Safety Experts [Free Download]
🌟 Ready to dive into the world of ESG complexities? Our brand-new guidebook is your ultimate companion. 🚀 We've packed it with must-have insights tailored specifically for Safety Experts and Professionals like you. 🛡️