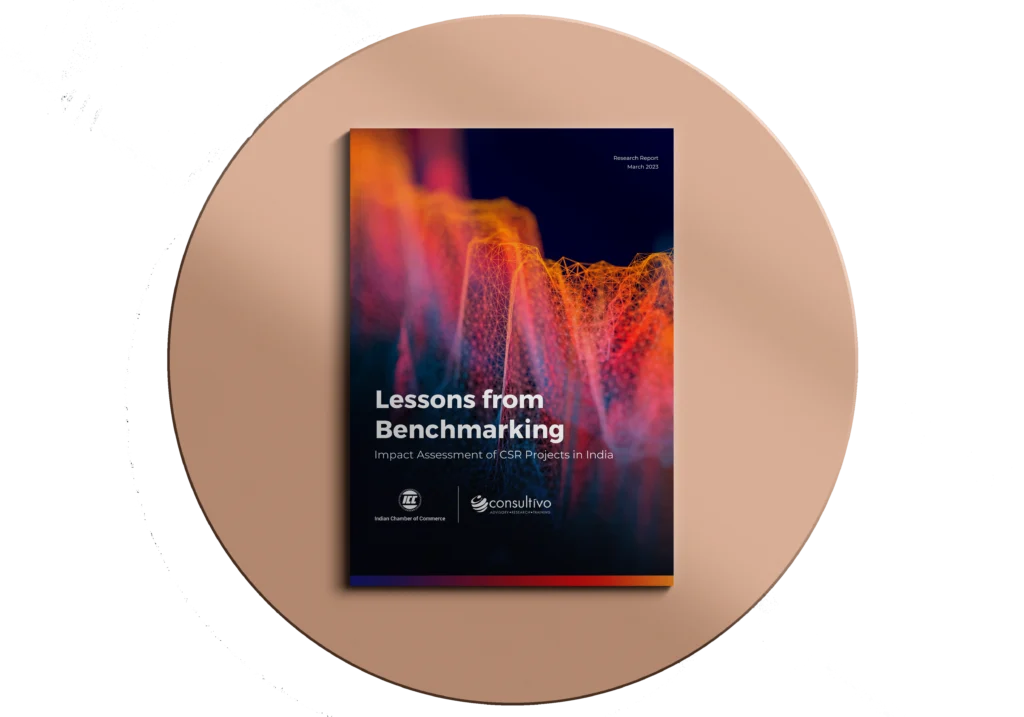 Get valuable insights and practical guidance on CSR Activities of Indian Companies – Lessons from Benchmarking study by ICC and Consultivo. This ICC Consultivo joint research report on 'CSR impact assessment in India – Lessons from the benchmarking' has been published during the event – ICC Social Impact Awards 2023.
Unveiling CSR Excellence and Lessons from an Indian Benchmarking Study.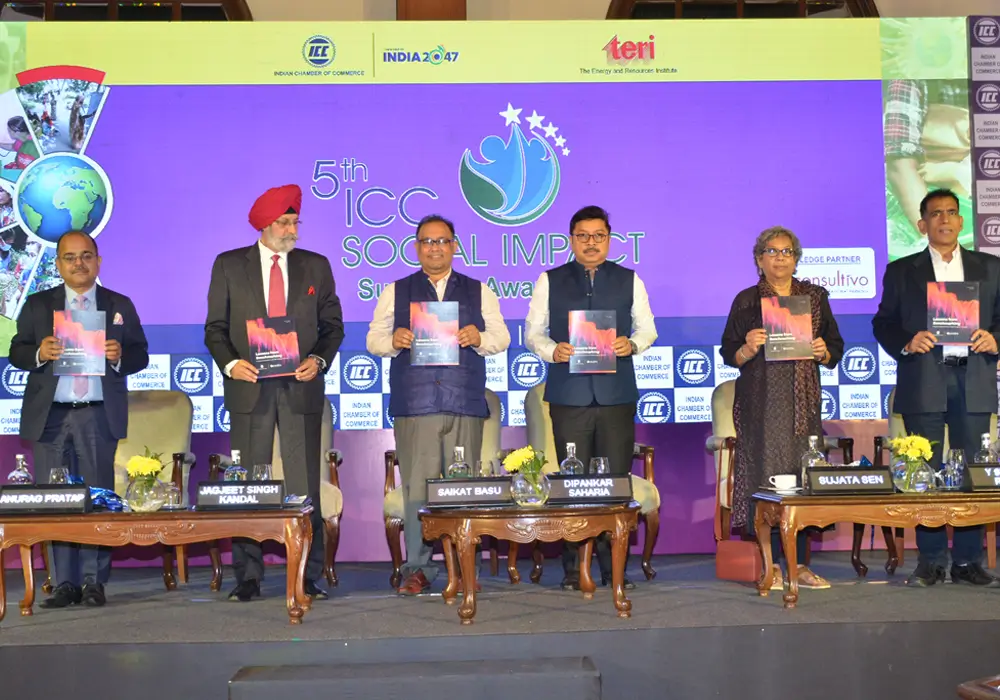 Launch of the research paper by Indian Chamber of Commerce (ICC) and Consultivo – "Impact Assessment of CSR Activities by Companies in India – Lessons from Benchmarking".
In photo (L-R): Mr. Anurag Pratap, Director & Head CSR – Capgemini Technology, Jagjeet Singh Kandal, Country Head – IDH, Mr Saikat Basu, CEO – Consultivo, Dr. Dipankar Saharia, Senior Director – TERI, Ms. Sujata Sen, CEO – Future Hope, Dr. Y Suresh Reddy, Director – SRF Foundation.
About the research report –  Benchmarking of CSR Activities Of Indian Companies
This ICC Consultivo joint research report on 'CSR impact assessment in India – Lessons from the benchmarking' has been published during the event – ICC Social Impact Awards 2023.
This report offers quantitative and qualitative insights into the transformative potential of corporate social responsibility projects, initiatives and CSR activities of Indian Companies.
Through research, analysis and benchmarking, this report seeks to highlight the efficacy of the impact assessment of these CSR projects.
It is based on insights gathered from over 180 projects and 70 organisations deriving out of CSR activities of Indian companies.
The data we gathered on CSR activities of Indian companies enabled in-depth analysis of overall trends, as well as generating a wide range of granular metrics.
This report also highlights the high-impact areas. This will help in understanding the challenges and the key success factors among their peers – information that can be used to identify opportunities for improvements for all.
We used our year-long benchmarking study in the CSR and sustainability sector and came up with the action points.
This knowledge report is a cross-disciplinary effort by professionals from the sector of CSR, sustainability, impact communication and responsible business.
53% of impact assessment reports are substantiated by case studies
18% of the projects have calculated SROI through a structured approach
6.3% of projects using the technology based tool/software to analyze data.
Globally, any CSR or Corporate Social Responsibility activities or initiatives are designed for making a positive impact on society, environment and economy. CSR activities of Indian Companies are no exceptions.
The good practices being used by many of the CSR projects or initiatives can be replicated almost in every project across the globe. Providing opportunity for horizontal deployment of the CSR good practices is the major purpose of this research report.
Please refer to the good practices checklist for a quick look on the four areas of improvement.
Certainly, these good practices mentioned here in this benchmarking report can be used for designing CSR activities by Indian Companies as well as for any global projects. Good practices mentioned in this report may need some moderation or local level customization.
About Consultivo
Consultivo is a management advisory and consulting firm helping global businesses in the areas of Sustainability, Business Excellence & Risk Management – both in strategic and operational levels.
Consultivo research and analytics wing works on industry, society and community oriented research programs on ESG, Sustainability and business risk in both qualitative and quantitative fields.
As an Independent and leading CSR Consultant in India, Consultivo offers CSR Strategy Consulting, Baseline and Need Assessment, Stakeholder Mapping and Engagement, CSR Project Monitoring and Evaluation, CSR Impact Assessment, SROI Assessment and CSR Communication Reporting.
About Indian Chamber Of Commerce (ICC)
The Indian Chamber of Commerce, or ICC as it is popularly known, is the premier body of business and industry in India. The membership of the Chamber comprises several of the largest corporate groups in the country, with business operations all over the country and abroad.
One of the most pro-active Chambers in India, the ICC has been privileged to interact and host several of the esteemed Indian Presidents and Prime Ministers in the past. 
With over eighty years of service to the nation, the ICC retains the character of being the premier Chamber with senior Indian industry leaders forming the core of its Executive Committee or the Governing Board of the Chamber.