Stockholm University shines a spotlight on the BRC Impact Report, a creative symphony by Consultivo and Slate of Swan. 
The Impact Report titled "Threads of Knowledge: Preservation of Intangible Cultural Heritage for a Sustainable and Inclusive Planet" was inaugurated on September 6 at the Stockholm University in Sweden. 
As the vibrant Swedish capital, Stockholm is the place where the world's brightest minds gather to receive the Nobel Prize. Stockholm University is a renowned public research university recognised for its academic excellence and diverse disciplines. 
This impact report was launched at a one-day workshop focusing on India and modern global Hinduism. The event was a melting pot of knowledge and collaboration.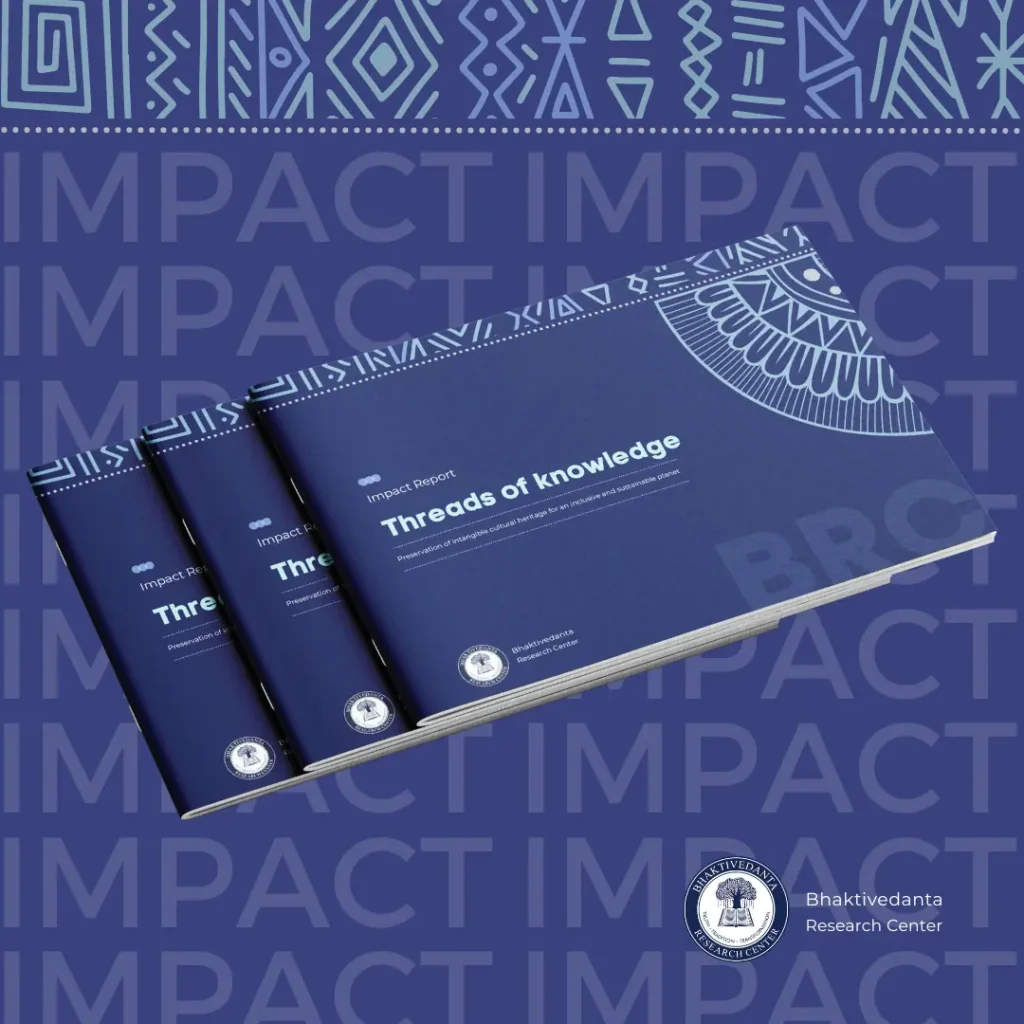 Stockholm University's Department of Ethnology, History of Religions, and Gender Studies is leading this initiative, joining hands with Utah State University's Department of History, The Center for Dharma Studies at GTU, Berkeley, and the Bhaktivedanta Research Centre.
The Indian Chamber of Commerce (ICC) invites applications from both member and non-member organizations, including corporate CSR wings and implementation agencies such as NGOs, Trusts, and Civil Society Organizations. This year, we're looking for projects that not only comply with regulatory requirements but also embody management's commitment to societal well-being.
Consultivo, as a knowledge partner, is proud to provide the framework and technical support for these awards, reflecting our commitment to sustainability and CSR
The Bhaktivedanta Research Center (BRC) is a multi-faceted organisation engaged in the revival and guardianship of ancient Indian manuscripts on the brink of extinction. 
The BRC Impact Report offers a deep dive into the activities of BRC and how the same are aligned with national and global standards, including the United Nations Sustainable Development Goals on Intangible Cultural Heritage.
The report "Threads of Knowledge: Preservation of Intangible Cultural Heritage for a Sustainable and Inclusive Planet" focuses on the impact created in the spaces of Cultural Heritage, Digital Heritage, Community Investment and Knowledge for All.
Consultivo, renowned globally for its expertise in ESG, CSR, and Sustainability, undertook the research and advisory for this project. 
Consultivo developed the report, aligning it with the standards and guidelines set by the United Nations, UNESCO, International Finance Corporation (IFC) Performance Standards, Global Reporting Initiative (GRI), Schedule VII of the Companies Act, Government of India, and SDG – global goals. 
This, combined with the creative prowess of Slate of Swan – an impact communication agency, culminated in the publication of the Impact Report. 
Known for its human-centered design approach and a team adept at copywriting and editing, Slate of Swan ensured that the report was informative, engaging, and compelling.
About Consultivo:
Consultivo is an ESG and Sustainability Consulting firm that helps businesses in the areas of ESG, Sustainability, Business Excellence and Risk Management – both in strategic and operational levels.
About Slate of Swan:
Slate of Swan is a creative studio with core competence in the sustainability and ESG report design, social and sustainability sector.
Experience the Impact Report