Thermography | Infrared Thermographic Test
Electrical Safety Applications 2K+ safety audits & assessments
India, SAARC Countries & Middle East
Ready to serve anywhere you are
at the forefront of Safety Advisory Space
20+ types of Industry Sectors
covering Manufacturing, Mining, Power & Utility, Construction, Service, High rise Buildings and Logistics
Thermographic Test or Thermography Test Services for your Electrical Panels and Systems helps you to manage your electrical and fire safety risks. Thermographic test or electrical thermography or thermal imaging is the technique that uses an infrared imaging and measurement camera to "see" and "measure" invisible infrared energy being emitted from an object.
The objective of a thermographic survey is to identify abnormally high temperatures within electrical distribution systems.
Thermography Test & Interpretation
Our Thermography Services ensure safety related to humans, the safety of equipment and workplace. The Delta T (temperature difference) criteria to evaluate the temperature severity of an exception. The Delta T recommended actions are mentioned below:

Solutions – How Consultivo can help Featured training courses
Thermography Test For Electrical Panels – Approach & Methodology
Our Thermography Services are delivered in line with a robust methodology. It includes:
— Pre-Audit Meeting (opening meeting) with management and all concerned departments, identification of the target electrical equipment, installations and systems to define the scope of the audit such as Incoming supply receiving section, main sub-station, electrical equipment installed in various process sections, cabling, earthing system
— On-site electrical thermography applications on the selected spots and equipment to identify hazards as per the scope of the audit
— Discussion with Safety and Electrical personnel and sharing information of hotspot observed during thermography.
— Submission of draft Thermographic test report to the client containing Risk Based findings and observations with thermal imaging and recommendations
— Receiving inputs from the client on the draft report
— Submission of final electrical thermography test report
Instruments used for Thermography Services
Thermal Imaging Camera, Make FLIR, Model E60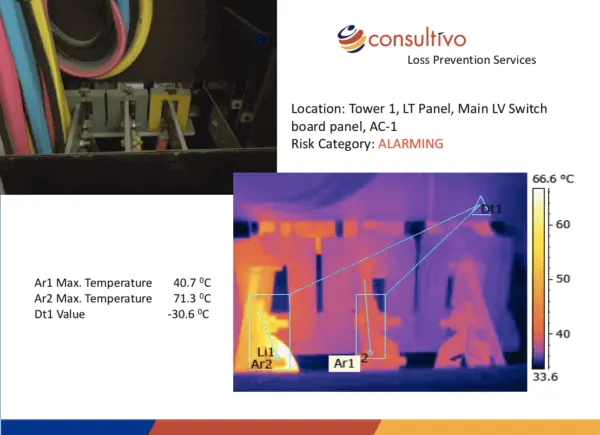 Standards Used for Thermography Test for Electrical Panels
— NFPA – 70B
— National Electrical and Testing Association (NETA)
Find out more in NFPA
Thermography Operator | Competence & Qualifications
An electrical engineer and certified ITC (Infrared Training Center) 'Thermographer'
Infrared Thermography for Industrial Applications
Infrared or IR Thermal imaging is an extremely useful tool for electrical safety through electrical panel thermography. It requires no contact being made with the components which means that the components can be checked in a live state, there is no effect on the components or interruption in any processes the electrical system may be controlling.
A thermal imaging technique that is used to measure invisible infrared energy being emitted from an object
A loss prevention tool – supports comprehensive electrical & fire safety audit
PURPOSE
To identify and document exceptions (abnormally high temperatures) within electrical distribution systems and/or rotating equipment.
INDICATOR
Delta T (temperature difference) criteria is commonly used to rate the temperature severity of electrical and mechanical system exceptions.
POSSIBLE CAUSES OF EXCEPTIONS
Electrical systems
Deteriorated connections, short circuits, overloads, load imbalances, faulty or improperly installed components.
Rotating equipment
Friction due to improper lubrication, misalignment, wom components or mechanical loading anomalies
INSTRUMENT
Infrared thermal imaging systems with spectral range from 2 to 14 um and minimum resolvable temperature difference (MRTD) of 0.3°C or less at 20°C.
A spot radiometer or non- imaging line scanner is not sufficient.
THERMOGRAPHER
Preferably an electrical engineer with certified Thermographer' qualification and competence
CODES AND STANDARDS
NFPA 70B, NFPA 70E, OSHA 29 CFR, NETA, ANSI, IEEE and NEMA
BENEFITS
— Helps to evaluate temperature severity objectively
— Identifies possibilities of electrical fire
— ensures safety to humans, equipment & workplace The impact we create. The excellence we inspire.
Read a few of our stories as we partner in the safety excellence journey of different organisations as a safety audit and advisory firm.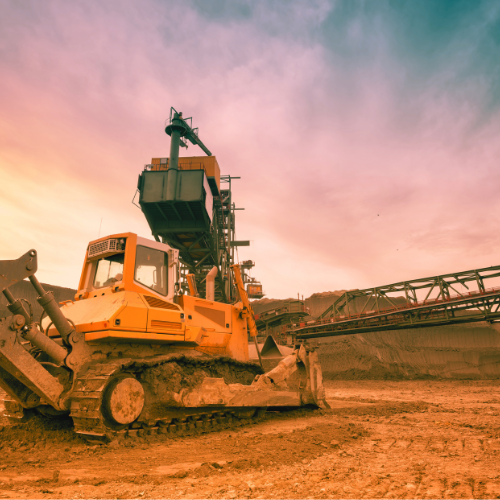 The internationally reputed company is a major construction, mining and power solutions provider with more than 25 locations in India. Their major challenge was working with multiple standards and legal requirements of different stakeholders.

We started with the development of an inhouse standard and guideline which was implemented across the locations.
We customized our scored assessment protocol 'Protosafe' as per their requirements and developed a three year plan. The safety performance scorecard provided the required guidelines to the management for improvement. Our recommendations facilitated the actions.
A definite positive trend of improvements observed in the subsequent years.
Relevant Standards and Protocols used:
Consultivo ProtoSafe, IS 14489, Indian Legal Requirements, ISO 45001
Construction, power, heavy equipment and services
25 Locations across India
Project ongoing till April 2023.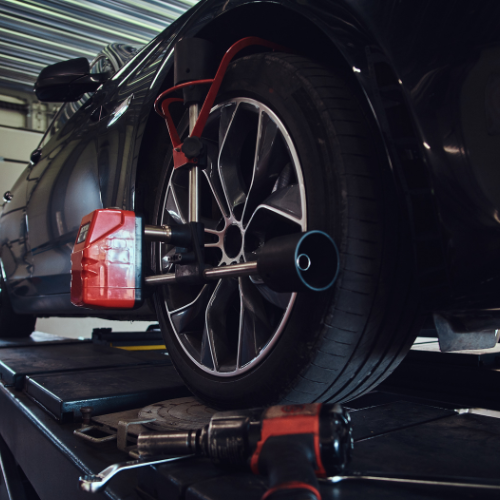 An international automotive manufacturer intended to reduce the OHS risks across the value chain – dealers/workshops. We created a customized OHS audit protocol keeping the focus on the relevant potential hazards and risks. The outcome includes analytics, scoring, benchmarking among the entities.
The project is ongoing for 1200+ units across India.
Relevant Standards and Protocols used:
Consultivo ProtoSafe, IS 14489, Indian Legal Requirements, ISO 45001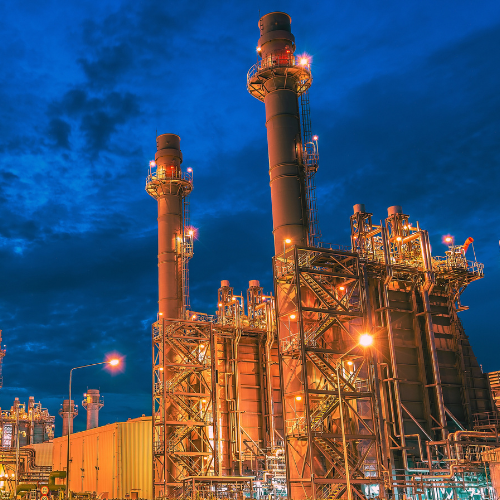 A large Naphtha Based Petrochemical Complex needed statutory safety audit as per IS 14489 standard. This audit was intended for meeting compliance and finding out potential risks from an independent expert perspective.

Consultivo was selected after a rigorous technical evaluation process which was focused on the quality of experience and expertise of both the organization as well as the auditors. The team was carefully chosen with diversified expertise in General Safety, Fire Safety, Process Safety and Electrical Safety with adequate Oil & Gas (Refinery & Petrochemical) experience.
The audit was conducted as per IS 14489:2018 standard and a detailed report was submitted with specific gaps, risks and recommendations.
Relevant Standards and Protocols used:
Consultivo ProtoSafe, IS 14489, Indian Legal Requirements, ISO 45001
Construction, power, heavy equipment and services
One Location with Naptha Cracker Unit and 12 Associated Plants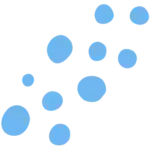 Some more answers to your questions – FAQ
Frequency of Thermographic Test or Thermography Test for Electrical Panels – Thermal Imaging
The frequency of Thermographic tests for electrical panels varies depending on various conditions. A few of them are listed below:
— When environmental conditions are influential like wet and humid weather, corrosive condition
— Frequent failure due to temperature rise in certain nodes
For all practical purposes, Thermal imaging for all your electrical panels and related systems should be carried out every 12 months and more frequently if deemed so. In fact, many times, it has become a prerequisite for insurance renewals (which is yearly).