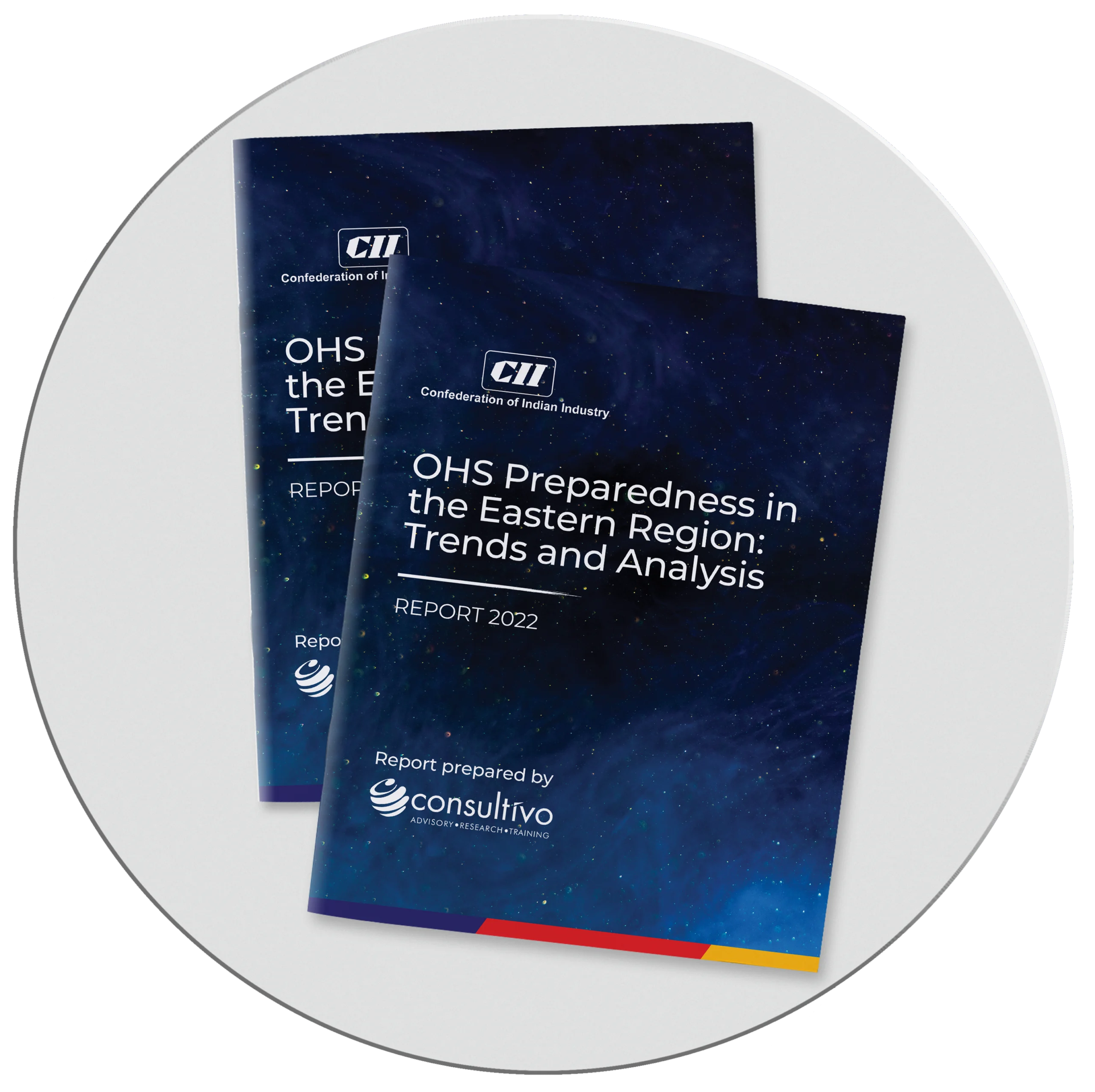 For over two decades, the CII Eastern Region has stood as a beacon of recognition for enterprises excelling in the domains of Safety, Health & Environment (SHE). The SHE Awards have emerged as a prestigious hallmark, celebrating the visionary leadership and unwavering dedication of organizations that have ventured beyond conventional norms to establish pioneering benchmarks in Safety, Health & Environment practices.
About the Knowledge report on OHS Preparedness in the Eastern Region: Trends and Analysis
Within this realm of accomplishment, this collaborative endeavor between CII and Consultivo stands as an insightful publication. Delving into the treasure trove of data amassed for the purpose of these esteemed awards, the publication embarks on a journey to uncover the true essence of Safety, Health & Environment practices prevalent across the Eastern Region.
This exploration traverses diverse sectors – construction, manufacturing, mining, and services – encapsulating the entire spectrum of business operations. Embracing businesses of varying magnitudes, from micro-enterprises to industry giants, the data collection process reflects a cross-sectional representation of the Eastern Region's dynamic landscape.
Guided by the spirit of continuous improvement, this publication seeks to illuminate areas of opportunity for the SHE champions and aspirants alike. By shedding light on potential enhancements, we aim to inspire the laureates of the SHE Awards and those striving to join their ranks. Together, we endeavor to uplift the Safety, Health & Environment paradigm, enhancing the holistic landscape of this region and propelling it towards a safer and more sustainable future.
About Consultivo
Consultivo is a management advisory and consulting firm helping global businesses in the areas of Sustainability, Business Excellence & Risk Management – both in strategic and operational levels.
Consultivo research and analytics wing works on industry, society and community oriented research programs on ESG, Sustainability and business risk in both qualitative and quantitative fields.
As an Independent and leading CSR Consultant in India, Consultivo offers CSR Strategy Consulting, Baseline and Need Assessment, Stakeholder Mapping and Engagement, CSR Project Monitoring and Evaluation, CSR Impact Assessment, SROI Assessment and CSR Communication Reporting.
About CII:
CII is a non-government, not-for-profit, industry-led and industry-managed organization, playing a proactive role in India's development process. Founded in 1895, India's premier business association has around 9000 members, from the private as well as public sectors, including SMEs and MNCs, and an indirect membership of over 300,000 enterprises from around 276 national and regional sectoral industry bodies.
CII charts change by working closely with Government on policy issues, interfacing with thought leaders, and enhancing efficiency, competitiveness and business opportunities for industry through a range of specialized services and strategic global linkages. It also provides a platform for consensus-building and networking on key issues.
Extending its agenda beyond business, CII assists industry to identify and execute corporate citizenship programmes. Partnerships with civil society organizations carry forward corporate initiatives for integrated and inclusive development across diverse domains including affirmative action, healthcare, education, livelihood, diversity management, skill development, empowerment of women, and water, to name a few.