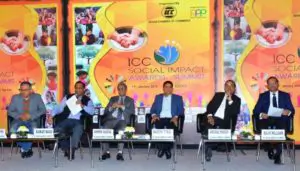 (L-R) Kaushik Sinha, Saikat Basu, Ashwini Saxena, Naresh Tyagi, Anurag Pratap, Rajiv Williams
The event provided a platform for both knowledge sharing and engaging and it was a lively session on "Creating Partnerships for Sustainability" and facilitated two-way interaction on various topics
The ICC Social Impact Award & Summit was organised by the Indian Chamber of Commerce (ICC) with Consultivo as knowledge partner at The Park Hotel, Kolkata on 11 January 2019.
This flagship initiative of ICC intends to recognise the excellence of the organisations in the sphere of social investment, CSR Impact and sustainability for the year 2017-2018. The event provided a platform for both knowledge sharing and engaging with the Corporates, NGOs and Implementing Agencies in order to encourage CSR collaboration between businesses & stakeholders.
Along with Saikat Basu CEO Consultivo, the panelists of this session were Kaushik Sinha (VP & Head CSR, Magma Fincorp Ltd.), Ashwini Saxena (Chief Operation Officer, JSW Foundation), Naresh Tyagi (Chief Sustainability Officer, Aditya Birla Fashion and Retail Ltd.), Anurag Pratap (Digital Inclusion Leader, Capegemini India), Rajiv Williams (Corporate Head – CSR, Jindal Stainless Ltd. Group).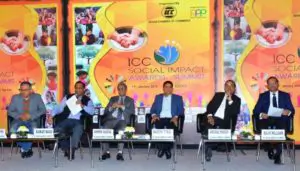 One major highlight of the social impact summit was an interactive knowledge session on "Creating Partnerships for Sustainability" moderated by Saikat Basu, CEO & Chief Mentor, Consultivo.
It was a lively session on "Creating Partnerships for Sustainability" and facilitated two-way interaction where the speakers interacted on various topics ranging from multi-sector collaborative partnerships, business motivation for partnering & cultivating effective leadership to mapping outcomes & sustainable business & responsible growth.
The speakers shared their industry knowledge and engaged with the audience. The session was centred around collaboration & partnership in csr & sustainability focusing on their importance in csr strategy. Sustainability is an ever expanding domain & to manage that, collaboration & partnership is required.
The discussion also highlighted the active involvement of corporate, NGOs, implementing agencies & others being vital in collaboration for a shared goal of accelerating social & sustainable development through strategic CSR investment.
About Consultivo
Consultivo is a management advisory and consulting firm helping global businesses in the areas of Sustainability, Business Excellence & Risk Management – both in strategic and operational level.
As one of the leading Independent CSR Consultants in India, Consultivo offers CSR Strategy Consultancy, CSR Baseline Survey, Stakeholder Mapping, CSR M&E, CSR Impact Assessment, SROI and CSR Reporting.
About ICC
The Indian Chamber of Commerce, or ICC as it is popularly known, is the premier body of business and industry in India. The membership of the Chamber comprises several of the largest corporate groups in the country, with business operations all over the country and abroad.
One of the most pro-active Chambers in India, the ICC has been privileged to interact and host several of the esteemed Indian Presidents and Prime Ministers in the past. With over eighty years of service to the nation, the ICC retains the character of being the premier Chamber with senior Indian industry leaders forming the core of its Executive Committee or the Governing Board of the Chamber. Its enlightened leadership and membership has enabled the ICC to move ahead and respond proactively to the dynamic changes that have taken place in the world order and with a vision for the future.