If you're preparing for an IS 14489 safety audit, it's high time to know the common mistakes that can lead to a failed or unsuccessful audit. In fact, failed audits are too costly for the organization and the people around.
This guide will provide you with tips and strategies to ensure a successful audit and maintain compliance with safety regulations.
Ensuring the safety of workers and the workplace is of utmost importance for an organization. Safety audits are one of the key tools in achieving workplace safety. Through safety audits, we effectively identify potential hazards and risks in the workplace and ensure that safety measures are in place and adhered to.
However, safety audits can sometimes be ineffective, and this is often due to common mistakes that are made during the process. 
Here, we will be discussing these common mistakes and how to avoid them in accordance with the Indian Standard IS 14489: 2018.
Mistake 1: Inadequate or Lack of Preparation for ISO 14489 Safety Audit
One of the most common mistakes organizations make is inadequate preparation before organizing an external safety audit (as per IS 14489). This can lead to a lack of focus and direction during the audit and can result in important safety issues being overlooked.
It is essential to plan the audit thoroughly and to ensure that all necessary information and resources are available beforehand. This includes:
Reviewing external audit reports and findings of previous years.​
Conducting an internal audit with a detailed safety audit checklist as per IS 14489.
The competent internal audit team of ISO 14489 Safety Audit 
Please ensure that the internal audit team is trained and competent to carry out the audit and that audit findings are effectively closed.
Get the documents and records updated and ready. Please refer to the standard for safety audit ISO 14489 for reference.
List of documents required related to ISO 14489
It's important to have all necessary documentation and records readily available and organised in a clear and concise manner.
This includes safety policies, procedures, training records, and incident reports. 
Make sure to review and update these documents regularly to ensure they are up-to-date and reflect any changes in safety regulations or company policies.
Ensure all employees are trained and aware of safety procedures and protocols to prevent potential safety hazards.​
Select a professional audit agency, preferably with adequate experience in your industry sector and free from any commercial bias. Ensure that they engage competent safety auditors.
Mistake 2: Failure to Involve All Stakeholders in an IS 14489 Audit
Another common mistake to avoid during an IS 14489 safety audit is failing to involve all stakeholders in the audit process. This includes:
Management like plant/organizational head, operations head, departmental heads etc
All Work persons including contractors and their workpersons
Different process owners – they are often the ones who are most familiar with the day-to-day safety hazards and can provide valuable insight into potential safety issues. Any other relevant stakeholder
The involvement of all stakeholders helps in building their responsibility and accountability towards occupational health & safety.
It is important to communicate the purpose and scope of the audit to all stakeholders beforehand and to ensure that their concerns and feedback are taken into account during the IS 14489 safety audit process.
Mistake 3: Focusing only on Compliance in safety audits as per IS 14489 Standard
Compliance with the country and state-specific safety acts, rules, statutes and regulations is important, but compliance should not be the only focus of an IS 14489 safety audit.
Good and best practices and industry sector-specific standards are equally important; though they may not be part of any statute. 
This can help to identify opportunities for improvement and ensure that the workplace occupational health & safety risks are kept As Low As Reasonably Practicable (ALARP). 
Mistake 4: Using a Checklist Approach as per IS 14489
While checklists are useful in ensuring that all aspects of the workplace are covered during a safety audit, relying solely on a checklist approach can be a mistake. 
You get a detailed safety audit checklist as per 14489, but it's important to use the analytical approach of a management system audit.
It is important to conduct a thorough and systematic evaluation of the workplace (activity, process, system and practices). 
It may include on-site observations, task observations and interviews with workers and process owners. 
This management system auditing approach shall help to identify potential hazards and risks that may not be evident in a checklist.
Mistake 5: Failing to Consider Human Factors for Safety Audit
Human factors play a very important role in any safety management system such as fatigue, stress, distractions and other antecedents that can significantly impact people's behaviour. 
One of the critical components of this audit is to check how the company is managing unsafe or at-risk behaviours that pose a serious threat to the reliability of any safety system.
Therefore, it is important to consider these behavioural safety factors during the ISO 14489 safety audit process. 
This includes evaluating the workload and work hours of workers, identifying potential sources of stress in the workplace, and assessing the adequacy of training and supervision.
Mistake 6: Over-Reliance on Audit Documentation
Documentation is an important aspect of any audit process, but over-reliance on it can be dangerous for the system. 
 Implementation of the policy, safe working procedures, and safe work practices (SWP) plays a more vital role in an effective occupational health and management system. 
Focusing on effective implementation across the organisation reduces the gaps and improves the audit outcome.
Mistake 7: Inadequate Follow-Up and Corrective Actions after the Audit
A safety audit is only effective if action is taken to address the issues identified. A proactive and systematic approach to address non-compliance issues (like using a root cause analysis tool for incident investigation) and implementing corrective actions ensure a safe and compliant workplace.
It is essential to develop a plan of action based on the findings of the audit and to ensure that corrective actions are implemented in a timely manner.
It is also important to follow up on the implementation of corrective actions to ensure that they are effective, issues are fully resolved and not repeated in future.
This requires ongoing monitoring and follow-up to ensure that the corrective actions are working as intended and that the workplace remains safe and compliant. 
Failing to follow up on corrective actions can result in continued non-compliance and safety risks, as well as potential penalties and fines.
Mistake 8: Failing to Communicate Findings and Recommendations
Finally, failing to communicate the findings and recommendations of the IS 14489 safety audits to all relevant stakeholders can be a mistake. 
It is important to provide clear and concise safety audit reports to the management with risk priority for each finding. A detailed action plan with a timeline for completion, responsibility, authority, accountability and resource provision should be the logical outcome of a safety audit.
Easy and actionable communication should be made to all relevant stakeholders like workers, and contractors, to ensure that they understand the implications of the findings. This can help to ensure that corrective actions are taken in a timely manner.
In conclusion, a safety audit is a crucial tool in ensuring the prevention of losses, but they can be ineffective if common mistakes are made.
By avoiding these mistakes and adopting a thorough and systematic approach, safety professionals can ensure that their safety audits are effective in identifying potential hazards and risks, and help in reducing the loss potential.
In addition to these eight common mistakes discussed above, there are several other failure factors that safety professionals should be aware of and avoid during the IS 14489 safety audit process.
Feel free to share some other points or your experience.
About IS 14489 standard:
This Indian Standard was first published in 1998 by BIS (Bureau of Indian Standards) to meet the growing requirement for safety in the industrial sectors.
The need was felt to formulate a guideline to audit safety aspects in the industrial and other units of concern. While formulating this standard, utmost care was taken to cover all the possible elements relating to Occupational Health and Safety.
It provides guidelines for evaluating the effectiveness of OHS programs, verifying the availability and implementation of elements of occupational health and safety systems and the system's ability to achieve defined safety objectives.
This standard focuses on general Occupational Health and Safety Audit to be carried out in various industries including Major Accident Hazard industries. Specific audits can be carried out in areas identified based on the general OHS Audit, in the high risks operations, or when there is a high frequency of accidents. 
The 14489 standard suggests organizations develop a detailed safety audit checklist based on the identified elements, type of hazards and nature of the work carried out.
This standard can be used as a guideline for self-demonstration of conformance to ISO 45001 to others and for compliance to IS 15793.
Annex A – Basic elements of OHS systems as identified
Annex B – An indicative list of types of records to be examined during the audit
Annex C – A sample checklist elaborating the various elements of occupational health and safety systems for guidance.
Ref: BIS Publication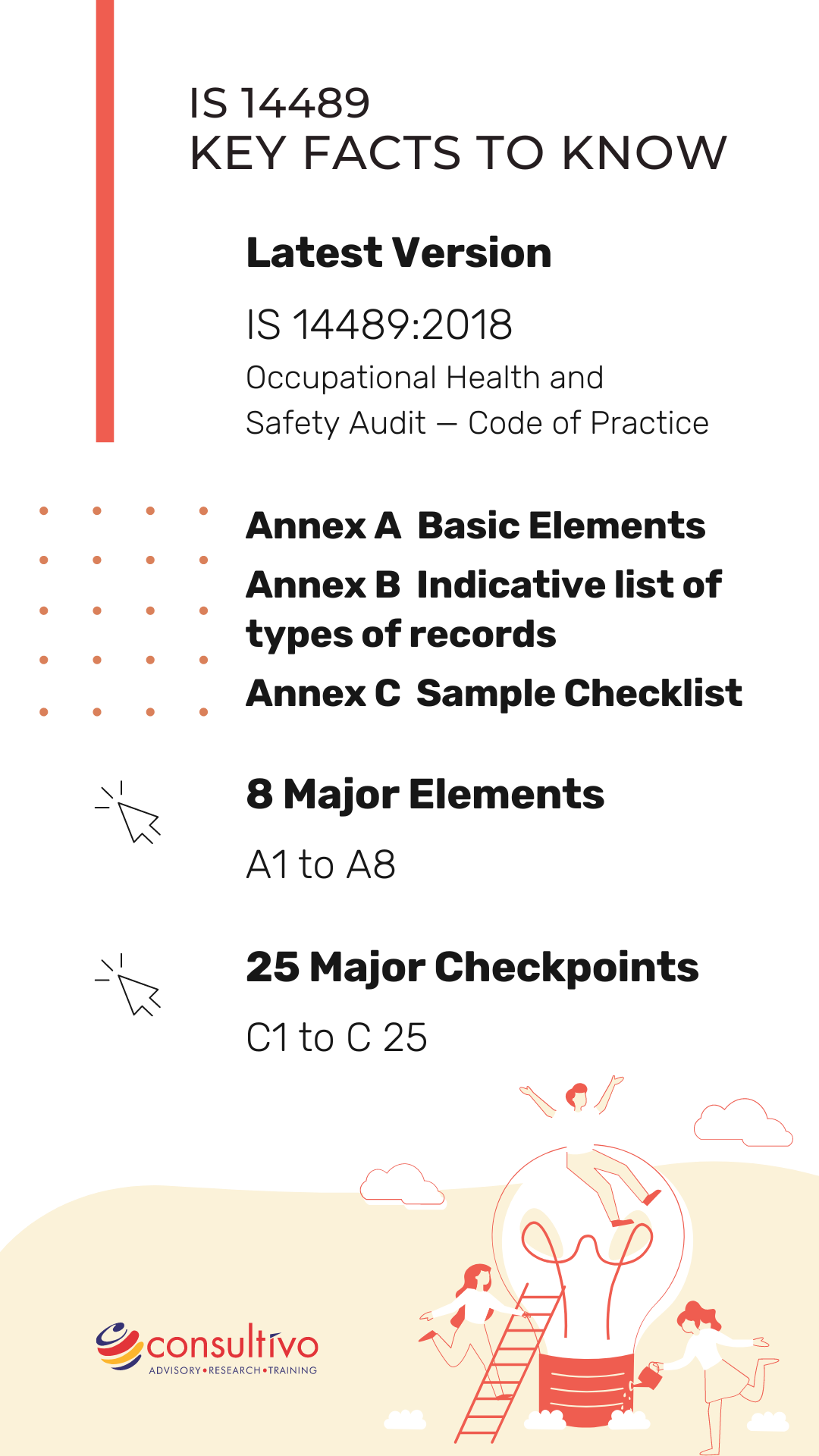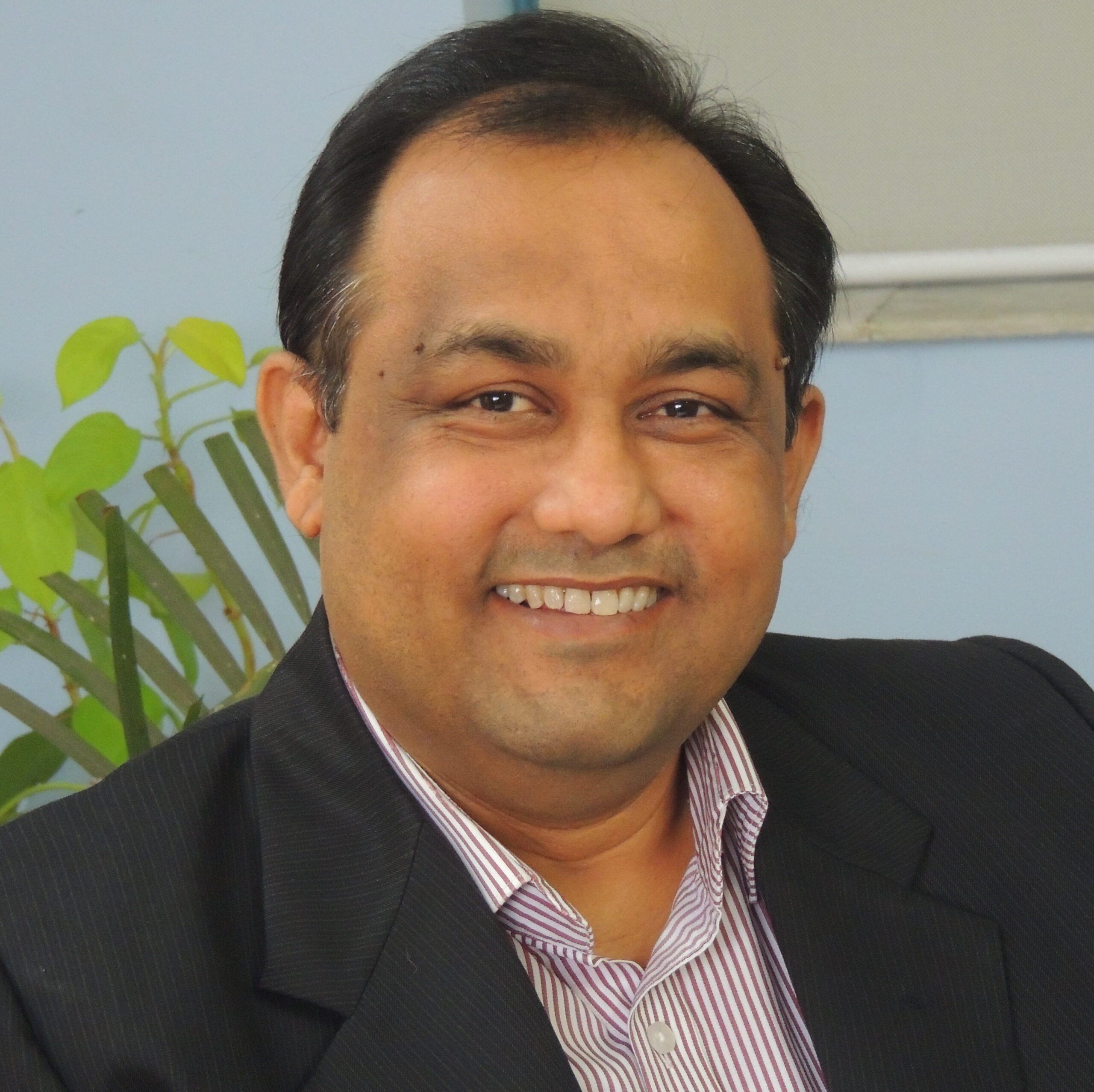 Saikat Basu is a long time sustainability and risk management professional and entrepreneur. He is having a diversified exposure to various management practices in the areas of strategic leadership, organisation excellence, financial management and people engagement. He has worked intensively with 200+ national and international standards on responsible business. He is a member of several sustainability (SHE Award, Environmental Excellence, Social Impact) award program design & jury committee. He is a passionate blogger and visiting faculty in academics.